Our Team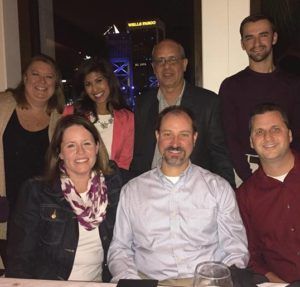 All our professionals at Atlantic Coast Dental Care maintain the highest levels of accreditation and pursue ongoing education to stay abreast of the latest trends in cosmetic dentistry.
Paul Wohlgemuth, DMD
Dr. Paul Wohlgemuth was born and raised in a suburb of Philadelphia, PA. Since 16 years of age, he has been a long time resident of Jacksonville and the Jacksonville Beaches. In 1995 he graduated from the University of Florida College of Dentistry with a Doctor of Dental Medicine (DMD) degree.
After dental school Dr Wohlgemuth was commissioned into the Navy where he completed a residency program at the Naval Hospital Great Lakes and from there he was detailed to the USS George Washington where he performed a two year deployment in support of Operation Desert Shield. Upon separation from the Navy in 1998 he returned to Jacksonville where he met his wife, Mary, and they have 3 children Andrew, Meghan and Abbey. In 2003 they founded Atlantic Coast Dental Care and made it their goal to bring high quality, family oriented dental care to our community. Dr. Wohlgemuth makes it his goal for our office technology and care to stay at the forefront of the dental field.
Dr. Wohlgemuth's spare time is invested heavily in his family, but when he is not taking his son to Lacrosse tournaments or watching his daughters dance recitals he tries to get in an occasional fishing trip to the skinny backwaters of the Intracoastal Waterway. Dr. Wohlgemuth maintains membership in multiple Dental organizations and remains up to date with the current philosophies of dental care by consistently attending numerous continuing education events per year.
Hollie Potter – Front Office/Manager
Hollie is a third generation Jacksonville Beach resident. She began her dental career right out of high school and graduated with her Expanded Duties Dental Assisting degree in 1989. From there she continued her education and became a registered dental hygienist in 1999. In 2003 Hollie joined our team as a hygienist and dental assistant working her way up to lead team member of our staff. She is married to her husband Billy of 14 years and has a son, Tyner. She enjoys spending time with her family fishing and going to the beach.
Jay Scruggs – Dental Hygienist
Our dental hygienist Jay has lived in the Jacksonville area for over 20 years. He is a Navy Veteran and still continues to support our troops in many ways. Jay graduated from the FSCJ Dental Hygiene program in 2006 but came to our office as an expanded duties dental assistant in 2004. You will find that he enjoys delivering dentistry with a smile and as many laughs as possible. In his spare time you are most likely to find him bumming around the beaches in Fernandina or even island hopping while cruising around the Caribbean.
Estee D'Ambrosio – Dental Assistant
Estee is an Expanded Functions Dental Assistant. In 2013 she graduated from Florida State College at Jacksonville with her Associate of Arts degree and her Dental Assisting Certificate. She is a Jacksonville Beach native and enjoys spending time with her husband, family and friends. In her spare time, you can usually find her working out, playing with her cat, or venturing out of town for a weekend getaway.
 Noemi Prophet – Dental Assistant